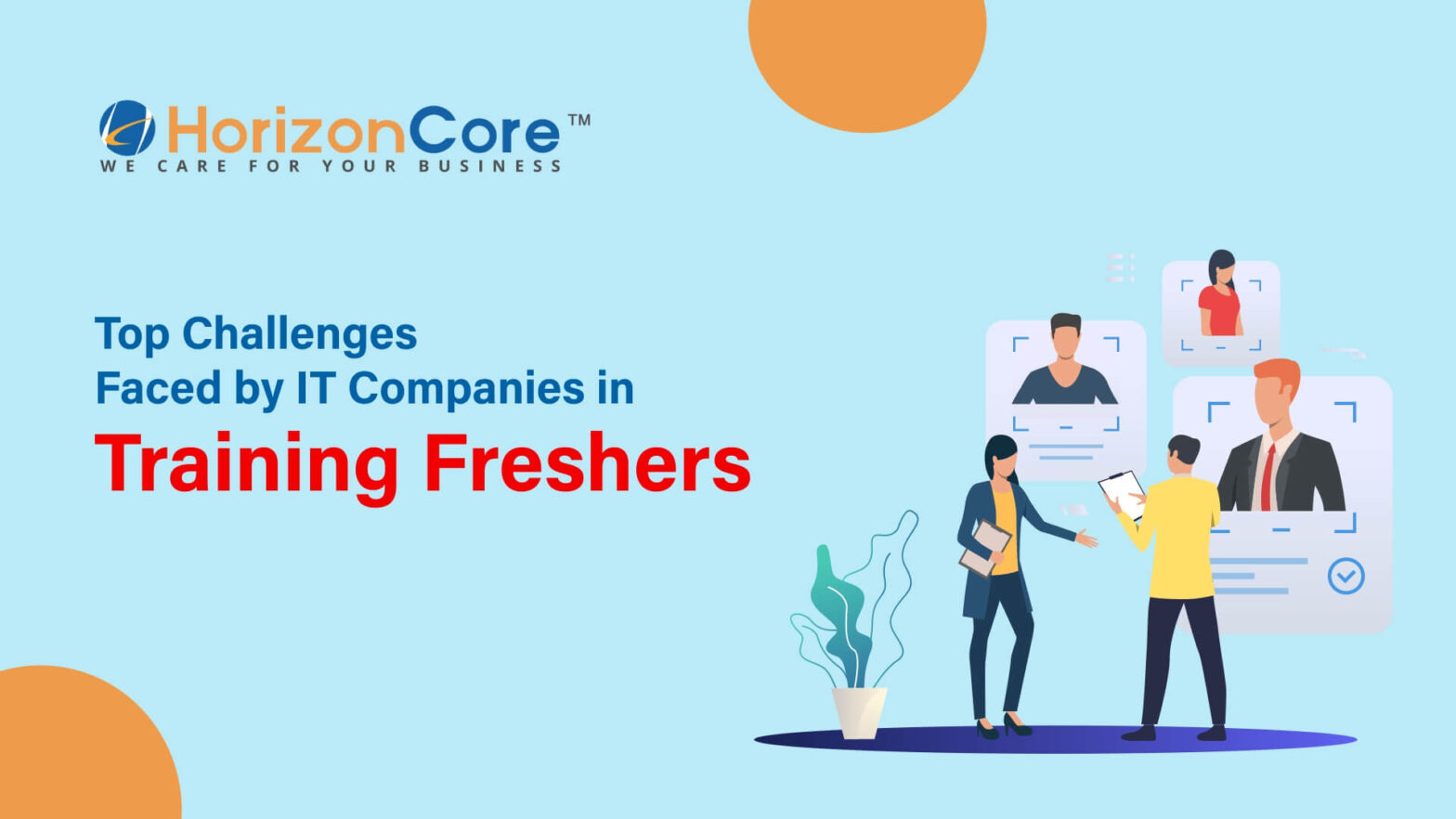 Top Challenges Faced by IT Companies in Training Freshers
IT is a field that welcomes the transformation of the new-gen, it holds the authority to make and turn this World with the potency of coding. When freshers step into this world they are still raw seeds that are unaware of the storms and the changeover of each season.
Whereas the surrounding of expertise has efficiently sustained each of them wherever the bugs are of codes, communication, or client. But keys to conquering the same are kept secured by trainers and are never shared with freshers. Is it so?
Familiarizing fresheners with work and surroundings is the trainers' role, which if not conducted then can create a red mark on their job – a straight loss situation for them. So no treasure like that actually exists.
The thing gets revolved when the actual part of fresheners is not done by them might be because of fewer communication skills or being scared of sharing their opinions. If we take fewer communication skills as an example then what can not be done with communication – you can get clarity on doubts, explore more ideas, and top of all find solutions quicker.
Thus, when it comes to the training period – challenges faced by freshers stand are a fair pole that simultaneously affects the IT Companies too. Let's get brief and solutions to a few of them.
#1 Lack of technical knowledge/experience
As a fresher, the procedure which might be taking your hour could be a snap of work for trainers – which is all due to the lack of experience. That doesn't mean you need to pass on all of your doubts to the trainers but to tackle them your way.
So to streamline it and step up the work procedures, freshers would need to drive meaningful research first, pick out solution-driving notes and then ask for help in case it's needed.
#2 Making them adjustable in the environment
Freshers always look for a corner where they can easily put their queries and opinions too, whereas trainers always want them to open up and make their ideas public.
That might sound like a clash but it isn't; the purpose conducted by trainers is for future situations where not every time, freshers will be surrounded by people who will encourage them to bring their ideas onboard which can also cause them loss of opportunities and affect their career growth.
#3 Bringing improvement during the training period
When the goal is growth, stabilization is never the thing you can actually ask for. When you are going under the training one major point you might notice is that "There are a lot of things I've been asked to do at the same time."
Mostly this set is assembled from the alternative tasks performed by you previously only, but to pull more improvisation trainers put on some more measures by which fresheners could roll at their best.
#4 Equal Balance of work and time
'IT Field' – how many seconds did it take you to read that? This is what happens when you bind things and their timelines as per their actual requirement.
With no previous practical experience, you might not know how much exactly the time this work asks for – but trainers have already been there that's why they might keep encircling on fresheners for timelines as later even trainees won't like it if get a defeat with a complete project and a late submission.
#5 Flexibilities during working hours
Today's generation has highly adopted online platforms and presence, without keeping any boundaries of required or unrequired information. Even if the news doesn't relate to them or their field, they keep draining their time in it.
This entire process gets carried as their regular practice, which affects the freshers' mental and physical presence at work and results too. But the thing is about training our minds to keep relaxing things for the weekends or a limited amount of time as even in the IT field, there are many companies that offer only a 5-day work week.
#6 Delivering the exact requirements of clients
Not might on the first day, but within a few days, this could be possible.
But not to forget about giving the requirements a crystal clear approach first, while assembling the right blocks of procedures and confirming with the trainers too and succeeding with them in real.
Closing Here:
As noted, highness! As a fresher, challenges are not only faced by you but your surroundings too. We drove you through a few of them, with a descriptive explanation and their way outs – we hope it conducts some mercy on you and your upcoming joining IT company too. On the other hand, if you are looking for some job opportunity to grab in IT, here is our career page which might be helpful to you.