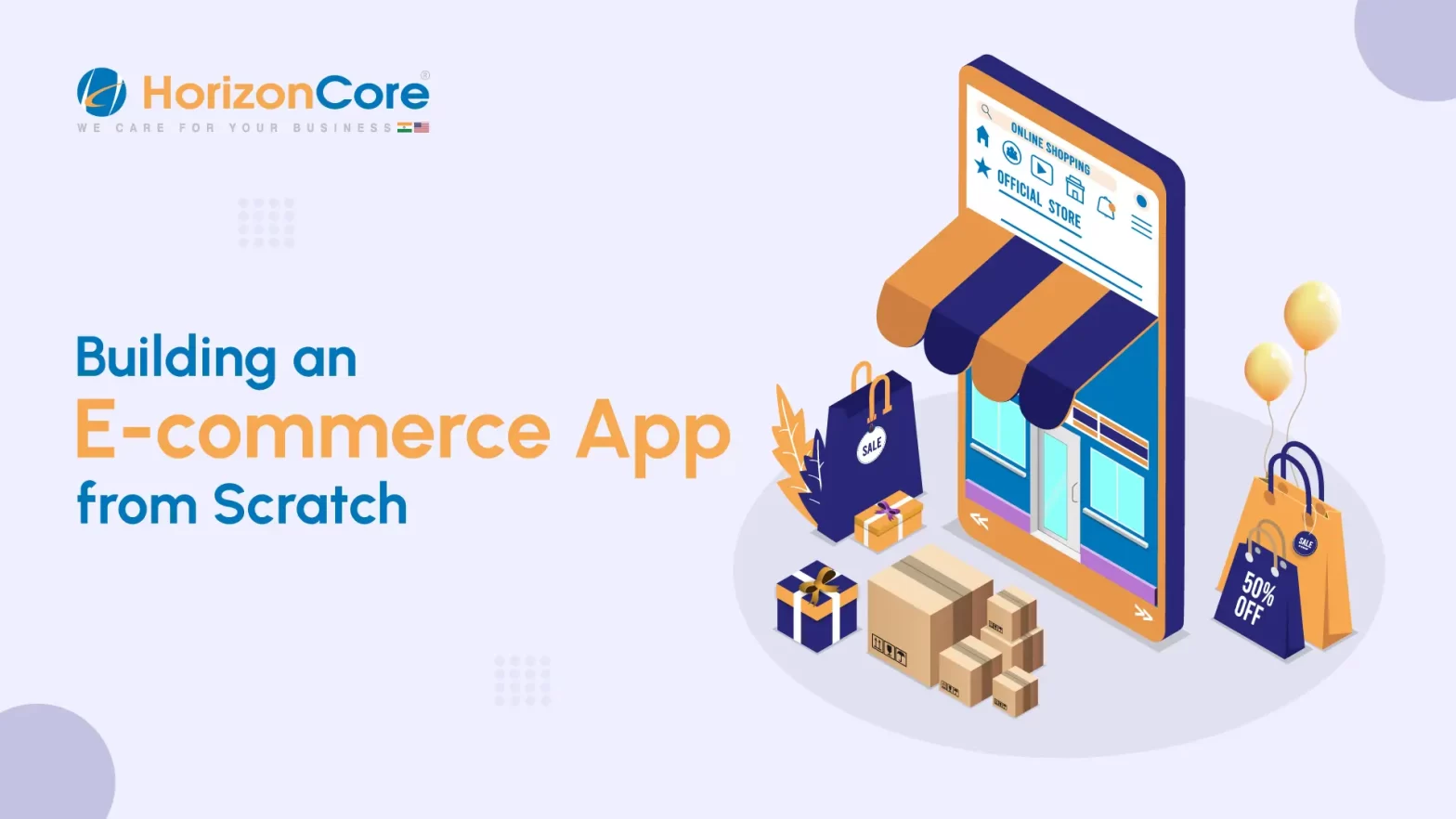 Guide to Build on E-Commerce Application from Scratch
The 21st Century is where anyone can buy and sell online. Everything is available on the internet.
From clothes, footwear, to all the day-to-day life essentials – brands have made a remarkable bridge reaching each client's door steps via eCommerce platforms that not only become over the purchase but make customers linked to the brand with timely notifications and offerings. Doesn't that sound like a great way to connect with your clients too?
E-commerce applications are online platforms that help businesses to make their services or products sell online even if the industry belongs to foodstuffs, pharmaceuticals, individual consultants offering various packages or any sector one can list off.
A well-designed and structured website helps you to boost your business. The growth of information technology has made it compulsory for every business to have a website so they are just a search away from the world.
Starting a new business using an eCommerce application can be useful for driving the right audience too as it is particularly based and designed as per the industrial requirements which can also result in scaling the higher reach compared to offline stores and without huge investments.
According to the previous survey, global e-commerce sales reached $4.28 trillion. In 2023, it is expected to reach $6.5 trillion. The digital age and social media usage for e-commerce has seen rapid growth.
After listing your business under a perfect niche it's essential to conduct precise market research for offering interface as per current market requirements.
Making an e-commerce application from scratch is not that difficult. So, let's give it a start by understanding the step-by-step roadmap of it first.
Guide to Build an E-commerce Application
1. Thorough Market Research
Any business cannot be started without any research. You should have a thorough understanding and knowledge about the competitors and the forthcoming opponents. This will help you to achieve success in your way.
In the market, there are brands like H&M and Zara. You might wonder how small brands will compete with these major brands. But Covid -19 has impacted people. They have now shifted to smaller businesses as sometimes they have more unique designs and patterns.
For example, a small handicraft business owner might try to reach people who are interested in antique and handmade items. Their focus is on the quality and design of the products.
The majority of business owners' decisions depend on market research. Based on market research, competitors are identified.
2. Select a Domain Name
The next step after market research is to choose a domain name. The domain name is an easy-to-remember website's equivalent IP address on the internet. It is an URL with the business name in it.
The name of the domain should be carefully made for the business to grow. The main advantage of the domain name is that the audience can easily find your product online.
The suggestable name for the domain extension is .com rather than .biz, or .net. For the domain name, a hosting provider is needed. The hosting provider helps to send back-and-forth website data. Anytime a customer visits the page.
3. Pick the Appropriate Technology
The website requires appropriate technology after the knowledge of the target audience.
Before selecting the technology, one important thing to remember is that the business owner should know the business's internal workings. This will lead to a faster decision on which technology to use.
Choosing mobile platforms for the target audience is not a difficult task. Instead, it is the simplest task of all. You have to choose whether to release an Android app, an iOS app, or both.
For any product to be successful in the market, a smart tech stack is essential. The tech stack includes a variety of components like Frontend (app interface), Backend (server processing), Development (libraries and interfaces platform), and support (app security and performance).
4. Select a suitable Computer Management System (CMS)
Several content management systems (CMS) like WordPress or WooCommerce are used for creating e-commerce websites. Not only CMS is used but various programming languages like HTML, CSS, and Javascript are used.
The benefit of choosing a CMS is that the website will be easy to use for people. The website can be customised easily and at any time. Sometimes, several CMS give inbuilt e-commerce functionality options.
Customization of the website will lead to a better design and functionality of the website. For that, experienced app developers will require it, and be time-consuming also. Hiring an app developer will be a suitable option for the development process.
5. Develop a prototype
After doing the above four steps, start building a prototype. The hired app developers and selected design for the website will help to develop the prototype faster and quicker.
After the prototype is developed, you can easily make changes to the website. You can drag and drop features where you need them, and discard the ones that you no longer require.
Building a prototype is not optional – it is essential.
6. Other Essential Features
Once the prototype model is tested and an actual website is developed. There are other several features required to add like product details, testimonials, and payment methods.
Product details with appropriate images of the product must be visible and specified. For better attraction, provide a brief description of each product simply with proper price and discount range.
Various research shows that ratings and testimonials influence consumers to buy the product.
Try to keep all modes of payment like cash on delivery, and credit/debit cards. Other options like UPI, Gpay, and Paytm are also available.
Take Away
All the essential steps required to build an e-commerce website from scratch are included. You might think that the developing process is easy but the best work requires time.
There's a saying that seeds planted do not sprout the next day but that doesn't mean they never will.
HorizonCore will guide you in every possible way to make your website successful. Even if you don't have any technical experience or deeper knowledge about the ecommerce website. We are here to help, to make an inquiry for the same +91 98980 22367 or Visit our website www.horizoncore.com/blog/